Wedding Ice Cream Cart
Everybody loves ice cream!
From our ice cream cart we serve premium Ice Cream from an award-winning, local supplier. You can chose up to six flavours of ice cream which are served to your guests for 2 hours (additional hours available upon request). - our ice cream comes unlimited, so guests can come up to the cart as many times as they wish! We serve ice cream in waffle cones or tubs, guests can then help themselves to a choice of sauces & sprinkles.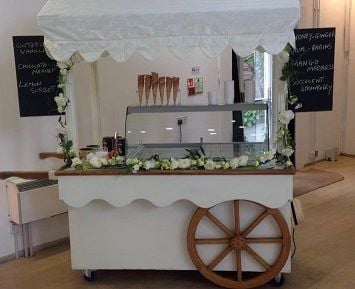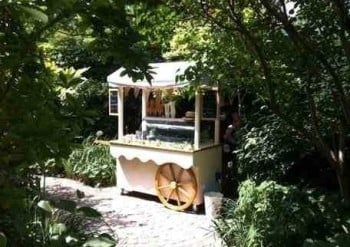 The ice cream we serve from our beautiful Ice Cream Carts, is a delicious handmade ice cream made on a family run farm. It's made from fresh organic milk from the family cow herd & uses the finest local ingredients. The ice cream is available in LOADS of flavours including chocolate fudge brownie, strawberries in clotted cream, mango madness.... to name just a few!
We are able to source many different flavours also well-known branded ice cream such as Haagen-Dazs & Ben & Jerry's - please ask for details.
We will also offer fruit ice's on request.
During the Christmas season we will supply Christmas Pudding flavoured ice cream at no extra cost.
The Ice Cream Cart can also be decorated bespoke to match your colour scheme or theme. We can even add some sparkle with fairy lights, let us know your ideas and we will do our very best to accommodate these.
We can also offer Kulfi, Halal, Kosher, Diabetic, low-fat and Non-Dairy Ice Cream. Please contact us if you have your own ideas or special dietary needs, we will offer the individual service you require.
Scrumptious Events operates In & around London and the south of England.
Upon booking the Ice Cream Cart we require a £100 non-refundable deposit which secures your date. Balance being due 14 days before the event.
Travel costs may be added to the final quote. Please contact us for further details.
Thankyou for visiting Scrumptious Events. We look forward to hearing from you!
To Contact Us: Email [email protected] or Call Emily On 07502 320534